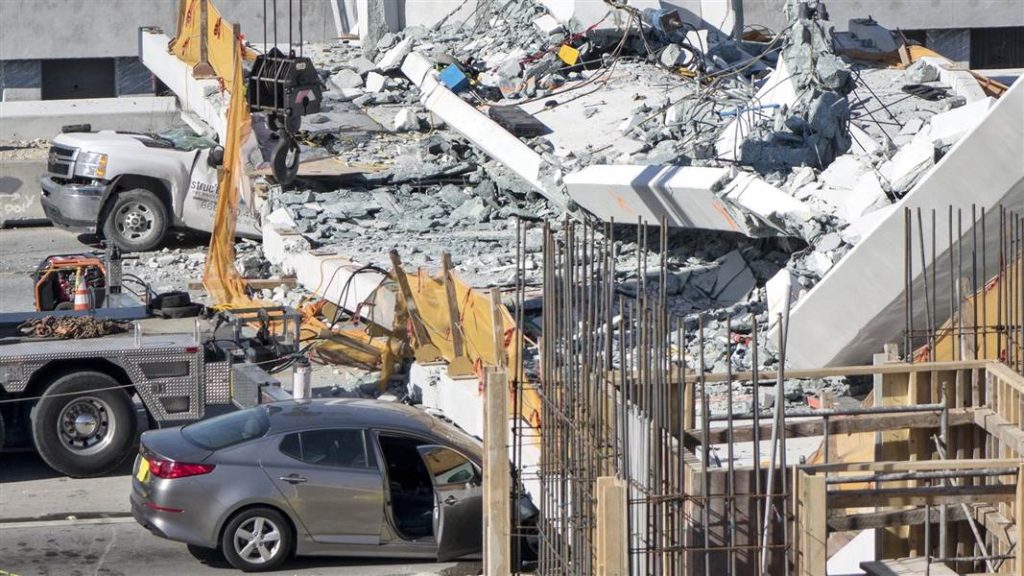 Florida Law Firm Helps Victims of Miami Bridge Collapse
The personal injury attorneys of Action Law Group recognize that the landscape around Florida International University and the lives of many people and their families changed when a recently installed pedestrian bridge connecting the campus with a city west of Miami, FL suddenly collapsed on March 15, 2018 around 1:30 PM. The bridge collapsed on the busy highway below, crushing vehicles and taking lives.
Those near the FIU campus at the time of the accident reported hearing a loud bang and then the bridge, which was constructed for the safety of students, was no longer there.
The first Sweetwater locals on the scene after the collapse reported bloodied and frantic victims crawling out from rubble. Eight cars traveling the busy seven-lane highway were trapped under tons of debris, one passenger narrowly avoided tragedy when a bridge slab crushed the back half of the vehicle in which she traveled. First responders managed to send at least nine of bridge collapse victims to the hospital, while four others sadly succumbed to injuries at the scene.
The bridge above the busy Tamiami Trail was constructed by the Munilla Construction Management Company (MCM), and set to be open for use for use by FIU students in early 2019. MCM erected the bridge leveraging a technique called accelerated bridge construction (ABC), which was meant to minimize risks to people and eliminate traffic headaches. The bridge was moved into position days before tragedy struck.
The bridge collapse attorneys of Action Legal Group note that Munilla Construction Management Company is currently being sued in South Florida by a TSA employee who alleges a makeshift bridge built by MCM collapsed under his weight. Court records list additional federal and state actions against MCM.
The Action Legal Group attorneys have seen first-hand how even a small collision with a dangerous bridge can result in life-threatening injuries to innocent people. The injuries experienced by the victims of the Miami bridge collapse have already helped to set it apart as a one of a kind tragedy. If you or a family member was injured in this bridge collapse or another bridge collapse, call the bridge collapse personal injury attorneys from Action Legal Group at 1-877-880-4861 to discuss your options.