Miami Bridge Displayed Cracks Before Collapse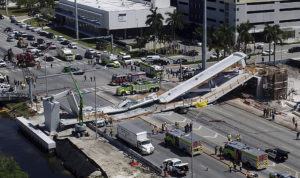 News emerged Saturday that engineers who had worked on the pedestrian bridge that fell on the Tamiami Trail on Thursday had made an effort to warn state officials about visible cracks on the walkway, no more than two days before the bridge collapse. The information became available to the public when the Florida Department of Transportation (FDOT) released a voicemail transcript Friday night.
The Action Law Group personal injury attorneys are available to discuss bridge collapse injury claims with the victims and families of people injured in the collapse.
The original story can be found here.